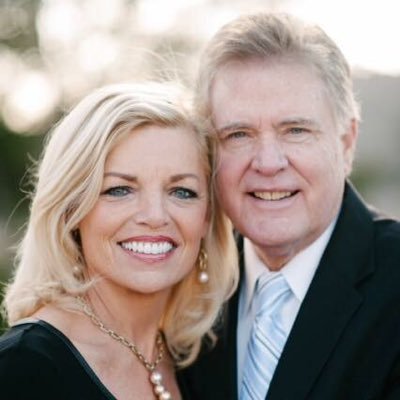 Jim and Rosemary Garlow
Dr. Jim Garlow Bio
Dr. Jim Garlow is the Founder and CEO of Well Versed, Inc. He is an author, communicator,
commentator, historian, cultural observer and has served most of his adult life as a pastor. Garlow is
heard daily on over 800 radio outlets nationwide in his one-minute commentary called "The Garlow
Perspective," and has appeared on numerous national TV shows on NBC, ABC, CNN, Fox, MSNBC, CNBC
and Comedy Central.
Garlow has done over 1,300 radio, TV and print interviews – national and local – covering a wide range
of topics: historical, theological, political, religious liberty, marriage and family issues and cultural trends.
He graduated from Drew University (Ph.D. in historical theology), Princeton Theological Seminary
(Master of Theology), Asbury Theological Seminary (Master of Divinity), Southern Nazarene University
(B.A. & M.A.), and Oklahoma Wesleyan University (A.A.).
Garlow has written 19 books, most recently Well Versed: Biblical Answers to Today's Tough Issues and
This Precarious Moment: Six Urgent Steps That Will Save You, Your Family And Our Country, both
released by Regnery Publishers of Washington, DC. In September, his newest book will be released: God
Will See You Through This: 26 Lessons I Learned from the Father Through the Joys and Hurts of Everyday
Life.
His books have been translated into nearly a dozen languages.
In 2013, Jim became a widower. He married Rosemary Schindler in 2014. Together, Jim and Rosemary
have eight children, eight grandsons and two granddaughters.
Rosemary Garlow-Schindler Bio
Rev. Rosemary Schindler Garlow, relative of Oskar Schindler, shares her experiences and archives from being part of the Schindler legacy that includes Oskar's successful efforts to save more than 1200 Jewish lives in the face of Nazi genocide. She is continuing the family's heritage and message through Schindler's Ark International.
Schindler's Ark's purpose is to be a bridge of support between Christians and Jews, the USA and Israel. As a Christian Zionist, Rosemary, together with Holocaust survivors and their descendants, are committed to "not being silent" so that our future generations will "never again" experience Anti-Semitism and terror.
Rosemary is an accredited Tourism Ambassador and host to Biblical lands. Her travels have included over 20 nations, including 56 trips to Israel. She works alongside US and Israeli agencies, El Al Israel Airlines and Israel's Ministry of Tourism to provide the highest level of excellence and inspiring journeys. In 2005 she produced an Angel Award winning DVD, "Land of the Covenant", showing Christian leaders experiencing Israel for the first time. – The HolyLand Travelers.
Rosemary has led numerous tours to Israel and received many awards from Israel's Prime Minister, government leaders and Jewish and Christian organizations in recognition of her exemplary humanitarian life's work. She partners with the Jewish National Fund, Hillel, Yad Vashem Holocaust Memorial Museum, Jewish Federations, Friends of the IDF, Synagogues, and Shaare Zedek Medical Center, Stand With Us and the Friends of Zion Heritage Center in Jerusalem. She and her husband, Dr. Jim Garlow, are the Southern California Directors for Christians United For Israel, the largest pro-Israel Christian organization with three million USA memberships.
Working specifically with survivors, their families, Yad Vashem and the U.S. Holocaust Memorial Museum, Rosemary coordinated and facilitated the:
62nd Reunion of St. Louis Ship Surviving Passengers in Ft. Lauderdale and Miami, Florida June 2 to 5, 2001.

In addition, there was national and international repentance at their All Americas Convocation involving Christian leaders and delegates from 50 American nations and 50 states in the USA.

63rd Reunion Tour to Hamburg, Germany and Israel March 2002 for Germany's repentance and to honor the St. Louis Ship captain, Gustav Schroeder, at Yad Vashem, Jerusalem's Holocaust Memorial Museum. There they prepared its St. Louis Ship history exhibit.

64th St. Louis Ship Survivors Reunion Tour to Cuba in August 2004 for repentance on behalf of the Cuban Christian Community.
In December 2009, during Hanukkah, Rev. Schindler represented the U.S.A. and the international Christian Community at the signing of U.S. Senate Resolution 111, acknowledging America's turning away of almost one thousand German Jewish refugees who sought the safety of our shores as they fled Nazi Europe 70 years prior. Being rejected at gunpoint from Miami forced 937 Jewish passengers back into the hands of Hitler, who then gave the world an excuse for his "Final Solution" to the nation's "Jewish problem". Rev. Schindler, personally signed Resolution 111, along with the Holocaust survivors of the St. Louis Ship, the head of the U.S. Holocaust Museum, Yad Vashem, the head of the U.S. National Archives, and government leaders from the United States of America and Germany. The tragedy of the St. Louis Ship is the US State Department's worst failure in US immigration history.
The story of the St. Louis Ship was the subject of the Academy Award nominated 1976 film Voyage of the Damned starring Faye Dunaway, Max Von Sydow and Lee Grant. The movie is based on the book by the same title by Gordon Thomas and Max Morgan Witts. In March 2002, Schindler's Ark International honored the St. Louis Ship Captain Gustov Schroeder in his hometown of Hamburg, Germany and at Yad Vashem as a Righteous Gentile for his heroic acts to save his Jewish passengers from being returned to Hitler's Germany. Watch the true movie.
Rosemary Schindler Garlow has coordinated Nights to Honor Israel and over 32 conferences specifically linking the American nations with Israel. She continues builds support for the Jewish people by hosting pro-Israel speakers. She is a voice for peace and teaches against anti-Semitism, racism, and injustice. Rosemary Schindler Garlow and Dr. Jim Garlow pastor Skyline Church, in La Mesa, CA and together have 8 children and 9 grandchildren.