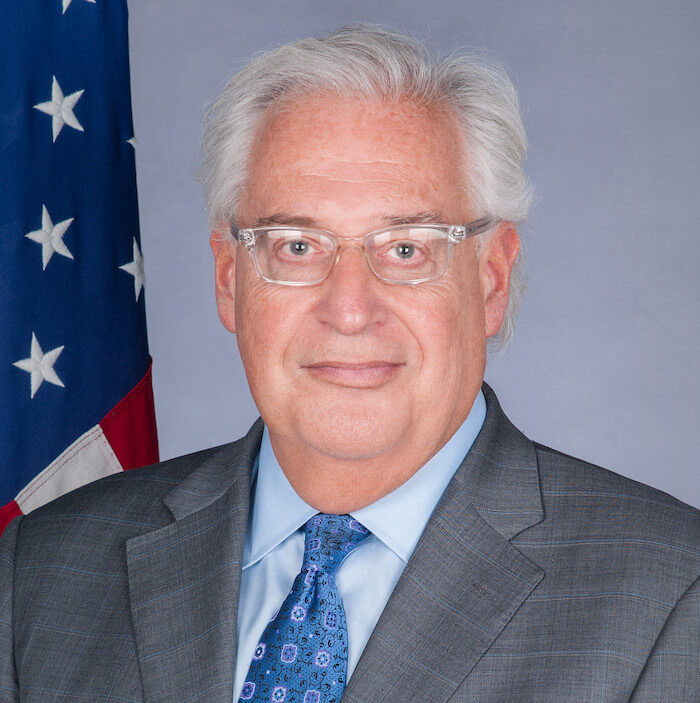 Ambassador David Friedman
Ambassador Friedman was nominated by President Trump on January 20, 2017 and
sworn in as Ambassador Extraordinary and Plenipotentiary to the State of Israel on
March 29, 2017.
He was the first bilateral ambassador to be confirmed in the Trump Administration.
Prior to his appointment as Ambassador, Mr. Friedman was a nationally top-ranked
attorney, and a founding partner of Kasowitz, Benson, Torres & Friedman of New York,
New York.  He frequently represented high-profile clients in large and significant cases,
and has published articles and lectured on novel and complex areas of law.
Ambassador Friedman has played a lead role in negotiating multilateral disputes in
some of the nation's most complex business and financial restructurings. Well known for
his excellent public speaking, negotiating and interpersonal skills, he has been active for
decades in U.S. policy as it relates to Israel and the Middle East.
He speaks and reads Hebrew and has traveled to Israel extensively.
Ambassador Friedman earned a B.A from Columbia University in New York, New York
in 1978 and a J.D. from New York University School of Law, in New York, New York in
1981.   He and his wife Tammy have been married for 36 years, and have 5 children
and 7 grandchildren.